welcome to the Thailand Open & Line Dance event 2017!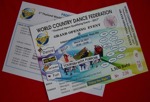 Grand Opening Event March 10

Parade with country flags.
Official opening of the event organizers.
International buffet free flow.
Show by professional dancers.
Dance to live music.

Dress Code:
Men - Long sleeves and long pants.
Women - Dress respectable length.

Note: Limited number of tickets. Cost: 1500 Bath
Booking tickets : info@thaiopenwcdf.com 08-0045 1362, 09-8582 4635


The competition will take place on the 10th to 12th of March 2017 in beautiful Hua Hin, Thailand

Friday: Sweepstakes begins. 12: 00-17: 00
Gala Dinner 17: 45-22: 00

Saturday: Competitions 9:00 - 19:00 Lunch 12: 00 - 13:00
Social dance workshops. 19: 00-23: 00

Sunday: Competition / Workshops / Social dance. 10: 00-14: 00
Awards Ceremony 15: 00-17: 00

Prices: 3 days pass. Competitions including social dance and workshops. 1000 Bath ( Thaiprice 200B/day)
MORE NEWS

because of the big interests of Thailand Open 2017, we change early bird until DECEMBER 18. It gives free accommondation 4 nights incl. breakfast and also gives free transfer. March 9-13.
HELLO EVERYBODY

Latest news from organization of Thailand Open. We give all dancers who register for
"EARLY BIRD" (before NOVEMBER 30) , FREE ACCOMMONDATION 4 nights, March 9 - March 13.
We also gives FREE TRANSFER.
Just let us know when arrives and we take care......

I recommend that you also join our closed group on facebook "Thailand Open 2017! WCDF
World qualifying event..........




2016-08-09
THE REGISTRATION IS NOW OPEN.

The registrations will be open until to the 3rd of March 2017 at midnight.

Early bird has been extended to November 30.
This is due the great interests of Thailand-Open 2017

ATTENSION - ATTENSION

ACCOMMODATION
The Event Organizer for the Thailand Open 2017 Will Provide Hotel Accommodation For
45 Dancers/Competitors For This Event.
This Will Be Awarded For Single, Twin or Dubble Occupancy Up to a Maximum Occupancy of 3-Persons per Room For a Group:

INCENTIVES FOR THAILAND OPEN

-A Cash Prize Will Be Awarded Each To Each Category (1 st Place) Being Awarded a Cash Prize With The Provision That There are MORE Than 3 Competitors in Each Category With the Outright Number.

Trophies Will Also be Awarded for 1st, 2nd, & 3rd place Each Category,

Certificates of Appreciation for All Dancers.

TRANSFER IN/OUT AIRPORT

-We Will Prowide a Transfer in/out From AirPort.

SIGHTSEEING TOUR

Free Half 2 Days

R U L E S:

IN ORDER TO QUALIFY FOR INCENTIVES, COMPETITORS ARE REQUIRED TO PAY FOR "EARLY BIRD" NO LATER THAN NOVEMBER 30 2016. THOSE APPLICATIONS RECEIVE FROM NOVEMBER WILL NOT QUALIFY FOR FREE TRANSFER ACCOMMODATION ..............




When registration open homepage www.worldcdf.com
WorldCDF - sanctioned event